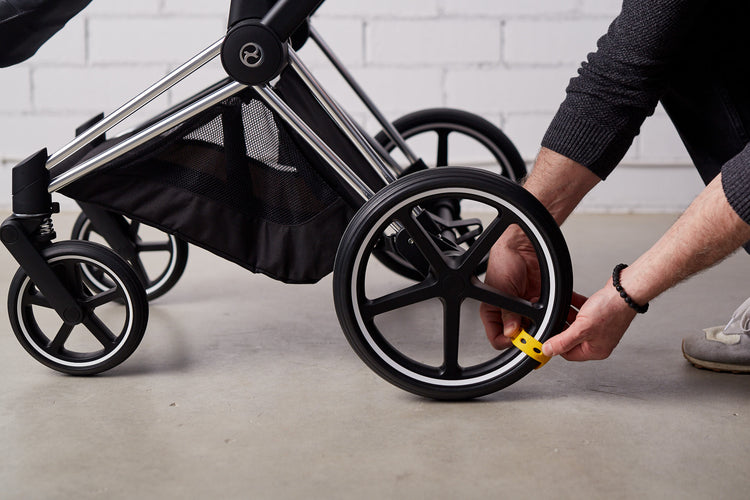 Where do I use my Wheelzzz®?
Where shall I place my Wheelzzz®?
Hi Families!
Especially to the Besadas, from Vigo, the Fernandez from Madrid and the Bach from Barcelona. All of them have asked us about where the best place is to attach Wheelzzz®. "Front or back Wheelzzz®?"
During 2019 we've tested prototypes with families all around: many in Spain, New York, London, Paris…They all have different point of views about it.
Many families have the same opinion, that babies under a year, like a gentle rock on the front wheels. The smooth sway close to the baby's upper body, helped getting it to sleep. Some parents attached two on this same wheel where the baby's head was resting, others alternated.

Closer to the 15 month barrier, parents agreed their little ones needed a more intense rock to fall asleep and it was then when the different rock "modes" were more relevant.
You can place Wheelzzz® on the back or front wheels, alternating sides, and even overlapped, as we've shown you on the blog.
We always say the same thing: Wheelzzz® can be a great help, but there are many factors involved in getting a baby to sleep that are out of our control. Wheelzzz® is just a handy sleep aid, you can use when you don't know what else to try to get those little monsters to sleep:)
The general rule is, if uneven surfaces work for your baby, Wheelzzz® can get them to sleep.
Rest families, and thanks for your comments!
Send us your comments in our official channels:
Follow our newsletter to learn about our latest news.
Choosing a selection results in a full page refresh.
Press the space key then arrow keys to make a selection.